Winn & Coales (Denso) Ltd, established in 1883, has been at the forefront of cost-effective, long-term, corrosion prevention, weatherproofing and sealing technology for over 80 years. The Denso® and Archco-Rigidon™ brands provide solutions for exposed steel tanks and tank bases and resistant linings for steel and concrete tanks, pipes and bunded areas.
With parent company Winn & Coales International, currently owning seven subsidiaries worldwide (four of them manufacturing), the company is able to draw upon a wealth of experience in producing its well known quality brands such as Denso®, Archco-Rigidon™, Protal™ and SeaShield™ to deal with corrosion and sealing problems in many difficult environments.
The company's products are manufactured in the United Kingdom under BS EN ISO 9001:2008 and the BS ISO 14001 Environmental Management systems. In 2013 the company celebrated its 130th Anniversary and in 2010 and again in 2013 it achieved a Queen's Award for Enterprise: International Trade.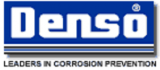 Address:
Denso House, Chapel Road, London SE27 0TR