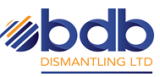 BDB Dismantling Ltd
Non-destructive dismantling:
The dismantling of a plant, structures or piece of equipment in such a way that its integrity for reuse is not compromised.
Dismantling:
The dismantling with extreme care of a plant, structures or piece of equipment but without the need to maintain its integrity for reuse (for scrap).
Demolition:
Demolition is fundamentally the same as dismantling, in that the operation is still carried out with extreme care, however alternative techniques can be utilised.
Site Clearance:
The removal of structure, plant, equipment, roadways, fencing/walls, foliage and trees etc and is generally associated with redevelopment.
Remediation:
The assessment and decontamination of site.
Plant Cleaning & Decontamination:
The removal of robust surface contamination and retrieval of contaminants.
The cleaning of plant and equipment of surface residues and recovery of residues.
Contact Details
Address:
BDB Dismantling Ltd,
Valley Road,
Station Road Industrial Estate,
Wombwell,
Barnsley,
S73 0BS